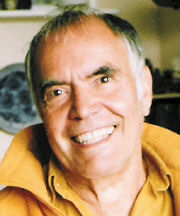 Christopher Gibbs
A composer since the age of seven, (Christoepr Gibbs, b. 1938) at Trinity College of Music (Gladys Puttick) and the Guildhall School of Music and Drama (Carey Blyton) in London. He taught music for many years and lectured for the University of Birmingham, but is now retired.
For many years he taught piano and composition in Grange-over-Sands, and also held weekly classes in improvisation (classical, jazz and contemporary) with young instrumentalists at Cartmel Music Centre, near Grange.
His compositions include a large scale Violin Concerto, a nearly completed, slimmed-down version of which is entitled Concerto for the Angels, several shorter pieces for orchestra, a piece for brass quintet ("Over Sands"), a cantata ("Viking Runes") for soprano, mixed chorus and orchestra, about 35 pieces for string orchestra, wind quartet, string quartet, brass band, choir SATB, piano solo, organ solo, piano and instrumental duo, and some songs. His one-act music drama Across an Unknown Sea received its first performance at the Sedbergh Festival in summer 2004. His Forest of Bowland Suite is perhaps his best known work, having been performed all over the country many times in versions for piano trio, string quartet and woodwind quartet. There is also a string orchestra version but this has not yet been performed in public.
Listen to Chris Gibbs on SoundCloud