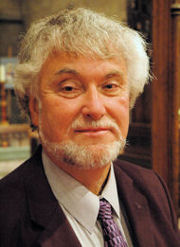 Gary Higginson
Gary Higginson, born 1952, is Director of Music at Our Lady's Chetwynde School in Cumbria. He is also a composer, singer and writer on music, with special interest in the medieval and renaissance periods and 20th century music.
Gary trained at the Guildhall School of Music and Drama under Edmund Rubbra, Patric Standford, Buxton Orr and Alfred Nieman. Later, whilst a student at Birmingham University, he continued composition studies under John Joubert.
He has written over 150 opused compositions. These include several orchestral works, two operas for young people, two string quartets, a great deal of church and Christmas music, a piano quartet, solo sonatas for every standard woodwind and string instrument, songs and song cycles, educational music - for voices, piano solo, flute, etc - pieces for brass band and a great deal more. His music has recently been heard in South America, France and Ireland.
Listen to Gary's music | Selection of Gary's Compositions | Contact Gary | Gary's page on www.musicweb.co.uk